Venue

Venue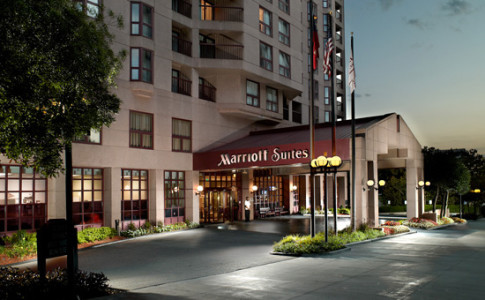 The MAML kickoff meeting will be held at the Atlanta Marriott Suites Midtown in Atlanta, Georgia. The hotel is located at 35 14th St NE, Atlanta, GA 30309.
The deadline for making reservations in the group block has now passed. There are two other hotels within close walking distance:
For additional assistance, please contact Katie Dey at katie.dey[at]vanderbilt.edu.
Directions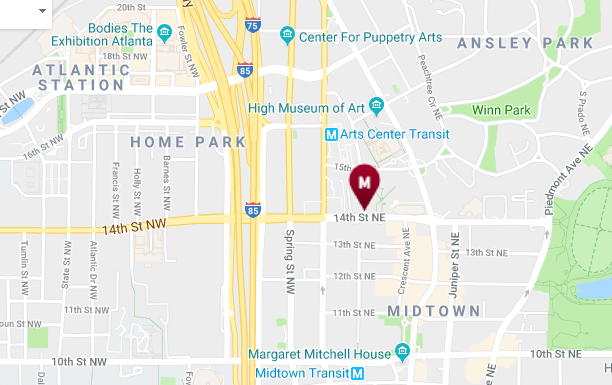 Atlanta is served by Hartsfield Jackson International Airport. The hotel does not provide shuttle service. Estimated taxi fare is $34 (one way) and subway fare is $3 (one way). The Arts Center MARTA Station is 0.1 miles from the hotel.
Driving directions:
Take I-75/85 North
Exit 250 to 14th street.
Turn right onto 14th Street.
Hotel will be on right.
Local Area Attractions and Dining Options
CITY WINERY - 404.943.3791
650 North Avenue NW, Atlanta, GA 30308


 


EMPIRE STATE SOUTH - 404.541.1105
999 Peachtree St NE #140, Atlanta, GA 30309


 


THE FLYING BISCUIT CAFE - 404.874.8887
1001 Piedmont Ave NE, Atlanta, GA 30309


 


GLADYS CHICKEN AND WAFFLES - 404.874.9393
529 Peachtree St NE, Atlanta, GA 30308


 


LIVINGSTON RESTAURANT AND BAR - 404.897.5000
659 Peachtree St NE, Atlanta, GA 30308


 


MARY MAC'S TEAM ROOM - 404.876.1800
224 Ponce De Leon Ave NE, Atlanta, GA 30308
MAX LAGER'S GRILL & BREWARY - 404.525.4400
320 Peachtree St NE, Atlanta, GA 30308


 


MILLER UNION - 678.733.8550
999 Brady Ave NW, Atlanta, GA 30318


 


THE OPTIMIST - 404.477.6260
914 Howell Mill Rd, Atlanta, GA 30318


 


PRINCI ITALIA - 404.709.2058
77 12th St NE, Atlanta, GA 30309


 


ROSA MEXICANO - 404.347.4090
245 18th St NW, Atlanta, GA 30363


 


ZOCALO - 404.249.7576
Zocalo 187 10th St NE, Atlanta, GA 30309
ATLANTA BOTANICAL GARDEN
1345 Piedmont Ave NE, Atlanta, GA 30309 | 404.876.5859

CENTENNIAL OLYMPIC PARK
265 Park Ave W NW, Atlanta, GA 30313 | 404.223.4412

COCA-COLA MUSEUM
121 Baker St NW, Atlanta, GA 30313 | 404.676.5151

THE FOX THEATRE
660 Peachtree St NE, Atlanta, GA 30308 | 404.881.2100

GEORGIA AQUARIUM
225 Baker St NW, Atlanta, GA 30313 | (404) 581-4000

HIGH MUSEUM OF ART
1280 Peachtree St NE, Atlanta, GA 30309 | 404.773.4400

MARGARET MITCHELL HOUSE
979 Crescent Ave NE, Atlanta, GA 30309 | 404.249.7015