ROSMOD Design Studio

---
Important!
Before running the studio, please make sure of the following:
You must first be logged into CPS-VO. If you have no account, you can create one

here

.

Make sure you are using one of the supported web browsers listed

here
---
Short Description
The Robot Operating System Model-driven development tool suite (ROSMOD) is an integrated development environment for rapid prototyping component-based software for the Robot Operating System (ROS) middleware. ROSMOD is well suited for the design, development and deployment of large-scale distributed applications on embedded devices.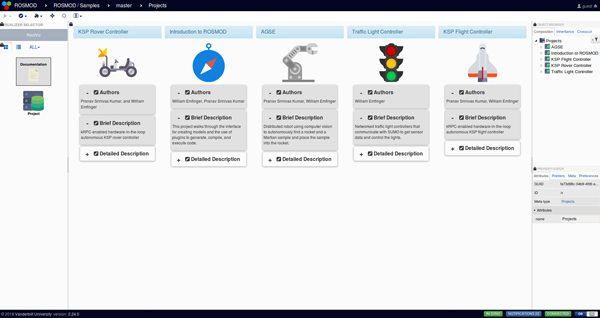 ROSMOD Projects Front Page.
The UI layout of the ROSMOD WebGME deployment is comprised of the panels and widgets shown above.
Links
Documentation: http://rosmod.github.io/webgme-rosmod/docs/
Publication: https://cps-vo.org/node/38498
Source Code: https://github.com/rosmod/webgme-rosmod
Videos: https://cps-vo.org/node/61741/
Contact: Bradley Potteiger
Acknowledgements:
ROSMOD has been developed in collaboration with the following organizations:.