Venue / Travel

C3E 2021 Venue
The C3E plenary presentations will take place in the Microsoft Teams platform. Networking and poster sessions will be held on the Gather.town platform. Registered attendees will receive an email with instructions for accessing the platforms in the week prior to the event.
Microsoft Teams
Microsoft Teams is a widely used collaborative virtual events and conferencing platform. All primary sessions for C3E excluding Networking and the Poster Session will all take place in the MS Teams platform. There are several things you can do to ensure you have the best experience on Microsoft Teams:
In general, using a laptop or desktop will be much more successful than a tablet or phone. To test your interet connection, you can do a speedtest.net test. ("Upload" speed is the most important measure).
Microsoft Teams can be accessed from your meeting invite link by "Download the Windows app" or "Joining on the web" instead. Chrome is the recommended browser. Microsoft Edge will also work.
Gather.Town
During the whole duration of the Conference, we have enabled a virtual Gather Town for attendees to interact, socialize, meet new people and talk about research.
Move your avatar around the 2D world with 8-bit graphics by using your keyboard's arrow keys. The poster session will take place in the space where posters will already be pre-loaded and organized in a grid similar to an in-person conference. To interact with a poster, simply walk up to the poster and press the "x" key to enter a full screen viewing. While viewing the poster, you will also be able to interact with the presenter. Here is a screenshot of the C3E poster space: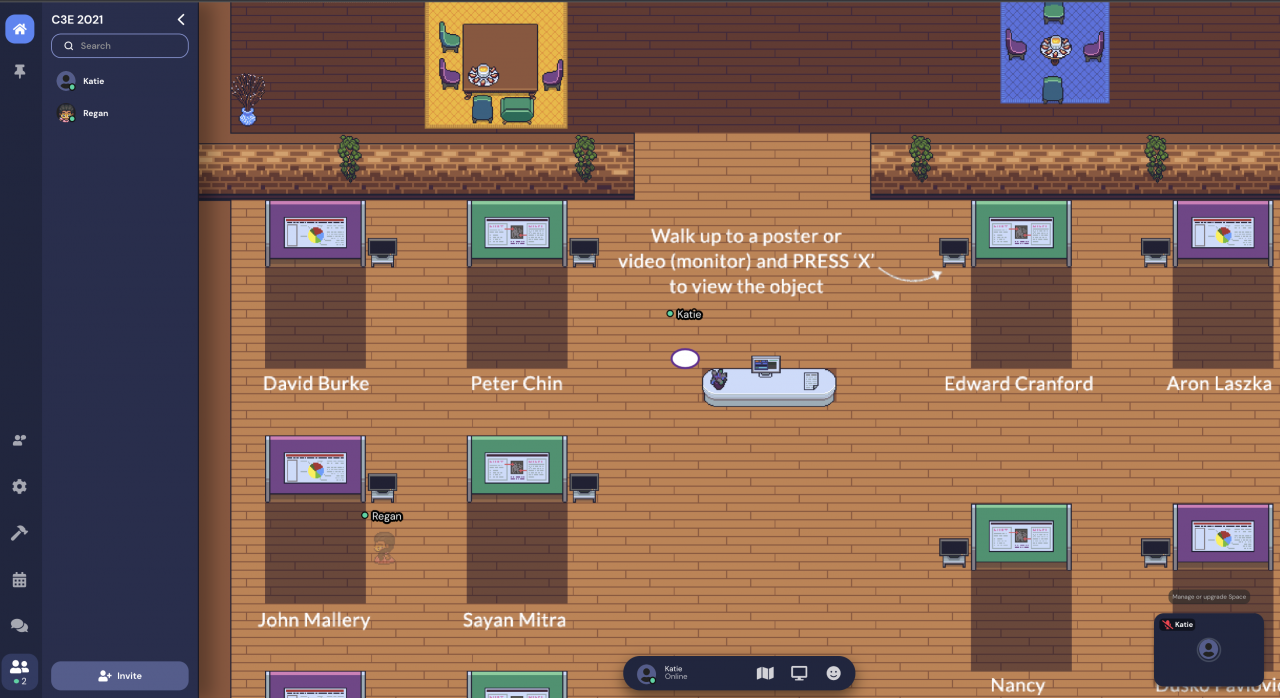 Frequently Asked Questions
Q: How do I access the platforms?
In the week prior to the symposium, registrants will receive an email with instructions on how to access MS Teams and Gather. Please be sure to register in order to receive the credentials. There is no fee to attend.
Can I listen to the symposium via phone?
Yes. A dial in option is available with MS Teams.
What technology do I need to attend this event?
An internet connection that allows you to participate in a Google Meet or Zoom call is sufficient for both the Microsoft Teams and Gather platforms. For MS Teams, you do not need a camera or microphone unless you want to come on screen to ask a question. For Gather, you will need a camera and microphone for the best experience. If you do not have a camera and microphone installed, you will still be able to walk around the Gather event space, view posters, and interact with other attendees via the chat.
What kind of technical support will be provided?
There will be a dedicated help desk in the Gather platform, and organizers on hand in the Microsoft Teams space. You may also email c3e@cps-vo.org and a staff member will promptly assist you.