Participant Guidance



PI ATTENDANCE REQUIREMENTS:


PIs with active NRI awards must attend the entire PI Meeting on both days of every annual FRR-NRI PI Meeting held throughout the duration of a given NRI grant, including during "no-cost extensions".  PIs of FRR awards are strongly encouraged to attend. In emergency situations that precludes a PI's in-person attendance, the PI must send a message to Juan Wachs (NSF) at jwachs@nsf.gov and Jordan Berg (NSF) at (jberg@nsf.gov) and copy Frankie King at frankie.king@vanderbilt.edu to provide the name of the project representative who will be attending. If a project is in no cost extension (NCE) status, please also contact Juan and Jordan to determine your attendance requirement. When registering for the meeting, the designated alternate must check the appropriate box as the alternate on the meeting registration webform.
In addition to the in-person participant for collaborative research projects, at least one PI with unique awards numbers from each of the other institutions shouldregister to atend the entire meeting. 
If more than one project personnel (e.g., Co-PIs, Other Senior Project Personnel, or Post-Docs) would like to attend in person, then they should register for the meeting and select "Would like to attend if space is available" as the registration option.If PIs would like to invite students, please contact Juan Wachs (NSF) at (jwachs@nsf.gov)  and Jordan Berg (jberg@nsf.gov) for approval and copy Frankie King at frankie.king@vanderbilt.edu.
A PI can be the in-person representative for more than one project.


MEETING REGISTRATION (Deadline is Monday, April 10, 2023):


To register for the meeting, select the "Meeting Registration" tab on the meeting website or at https://cps-vo.org/group/frr-nri-pimtg23/registration. The nontransferable meeting registration code will be sent in the official invitation letter to each PI, Co-PI, other project designate, or guest who is on the official invitation mailing list. Please complete your online registration no later than Monday, April 10, 2023. Please remember that each NRI PI is expected to be present for both days as each active project must be represented and that PIs of active FRR awards are strongly encouraged to attend. If the lead PI of NRI and FRR awards cannot attend, the lead PI must identify a project representative who will attend and then inform this person to register for the meeting at https://cps-vo.org/group/frr-nri-pimtg23/registration.
The organizers strongly encourage you to register for the meeting as soon as possible to assist us with early data about attendance.
On the evening of Monday, May 1, 2023, the registration check-in desk will be open from 6:00 p.m. ET to 9:00 p.m. ET for persons who wish to pick up registration check-in materials early. On both full meeting days, the registration check-in desk will open starting at 7:00 a.m. ET.


VENUE/ACCOMMODATIONS RESERVATIONS (Deadline is midnight, Monday, April 10, 2023):


A block of rooms has been reserved at the Hyatt Regency Crystal City Hotel at Reagan National Airport, for the nights of Monday, May 1, 2023 and Tuesday, May 2, 2023. All rooms reserved within this block are based on the Government per diem rate of US $258.00 per night (plus tax).
Rooms can be reserved in this block online at: https://www.hyatt.com/en-US/group-booking/WASRC/G-NRIF or by calling 877-803-7534 (toll free) and mentioning the group code "NSF FRR-NRI PI Meeting".
If your reservation includes days outside the block, rates will increase and you will not be able to register online, but will need to call the hotel.  As a backup should you experience problems, please immediately contact the organizers at frr-nri-pimtg@cps-vo.org who will try to assist on your behalf. Reservations must be made by the deadline of midnight (EDT) on Monday, April 10, 2023.
Reservations made after that time will be based on availability at the hotel's prevailing rates. To avoid any issues and to assist us with achieving the room block, we STRONGLY encourage you to make your reservations early to secure a room, as available rooms may be sold out sooner than the deadline. After this room block expires, we will post information about alternative nearby hotels which you can contact directly.
Hotel check-in time is 4:00 p.m. ET and check-out time is 12:00 p.m. ET. Guests arriving prior to 4:00 p.m. ET will be accommodated as rooms become available. The front desk can provide a baggage storage area for early arrivals or late departures.


PROGRAM INFORMATION:


1. Workshops: (Solicitation Deadline is Monday, March 27, 2023):
The 2023 FRR-NRI PI Meeting will incorporate a limited number of workshops into the program on innovative topics in FRR and NRI research. We invite the submission of workshop proposals from the FRR and NRI community that can define the future of the research vision and introduce recent research advances to interested PIs and graduate students. Workshops should include a mix of invited presentations and panel discussions that encourage active participation from attendees. Time allotted for workshops that fall on meeting day one is two hours and time allotted for workshops that fall on day two is for 1.5 hours with most workshops being expected to be a single day. However, proposers with longer workshops can request their workshop to be held over both meetings depending on availability. Proposers may be contacted by the committee to refine the content and length of their proposal. In order to propose a workshop please provide the program co-chairs via email with the following details (in PDF-format):
Thus, PIs will have the opportunity to:
Each workshop proposal must include:
Title and organizers*
Short (max 200 word) description of the topic
Any relevant details on format (e.g., panels, discussions, etc.)
Supporting resources needed, especially if the format is innovative
Preference for date: May 2nd (2 hrs.), or May 3rd (1.5 hrs.), or both
Other input/considerations you wish to provide
*proposers need not be PIs in the FRR/NRI programs
As the venue will have many robotics PIs, Co-PIs, and active US-based researchers, we are interested in ways the mini-workshop will make use of this audience (as distinct, albeit only slightly, from workshops are standard technical conference venues). 
The workshops will be examined for novelty, scope, topic relevance to the US-based robotics community at large, diversity/inclusion, and logistic feasibility. Our intention, in making allocation choices, is to identify overlaps and/or shared themes, to manage redundancy/competition for attendees, as the number of rooms is limited. People desiring initial feedback on tentative topic ideas are encouraged to contact the technical co-chairs by email.
Contact emails: nora_ayanian@brown.edu | dshell@tamu.edu 
Deadline for submissions: March 27th
Decision deadline: April 3rd
If your workshop topic is selected to be programmed, you will receive a notification from one of the 2023 FRR-NRI PI Meeting program committee members who will inform you about the requirements for your final workshop organization plans.
2. CCC Mid-Cycle Roadmap Event:
Over the past few months, the Computing Community Consortium (CCC), based on input from the robotics community, has been compiling a "mid-cycle" update on the Robotics Roadmap. Their goal is to identify gaps that are not being addressed in current research, in funding opportunities, at companies, and in the government, which need to be addressed sooner than the next full US National Robotics Roadmap update. A report on this activity will be presented at the PI Meeting plenary session followed by a workshop on meeting day one.
3. Aspiring PIs Workshop:
On day two of the 2023 FRR-NRI PI Meeting, an Aspiring PIs Workshop will be held for researchers who have never received or applied for such grants. As seating is limited, PIs are welcome to attend the workshop depending on space.
4. PI Project Submissions: (Deadline is Monday, April, 17, 2023):
a. Invited Talks:
    The meeting program will include the following presentations:
Keynotes
PI Project Long Talks and Panel Discussions
Workshop Talks
If you are invited to give a presentation, you will receive individual messages with details from a program committee member.  A presentation/bio submission code will be provided at that time for you to submit your presentation and updated bio and snapshot. After you have been contacted, please post all presentations at:  https://cps-vo.org/group/frr-nri-pimtg23/slides by Monday, April 17, 2023.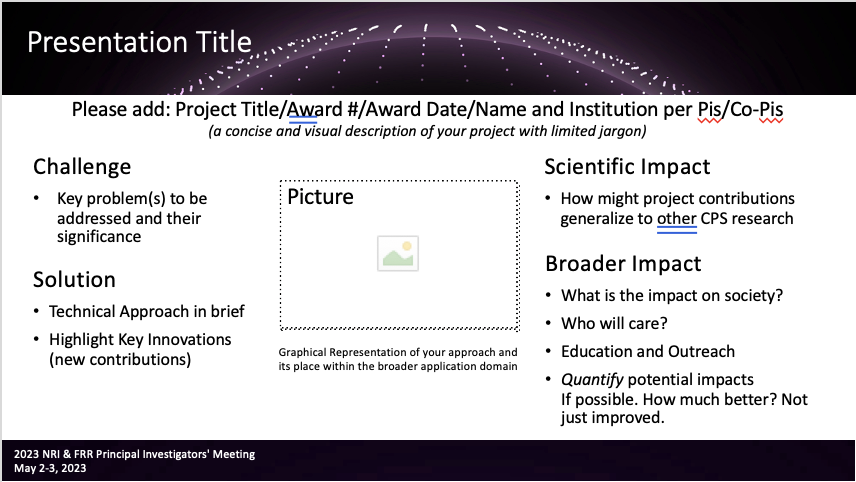 For PIs who are invited to speak, a presentation template can be found directly to the right (click image to download).
A presentation laptop will be provided, but please let the organizers know in advance if you plan to use your own laptop and if there are movies in your presentation. It is expected that all presentations will be from computers and displayed via projector, which will be available. If you require additional specific audio-visual needs for your presentation, please contact Frankie King (Vanderbilt) at frankie.king@vanderbilt.edu and Jason Gigax (Vanderbilt) at jason.w.gigax@vanderbilt.edu.
b. Long Talks + Lessons Learned Panels: The program will allocate time for proposed long talks for PI projects in their final year (only one talk for collaborative projects, selected in order to balance topic, institution, geographic, career-stage diversity). The sessions will be organized in a way that draws similar topics together. We plan to solicit input on a summative discussion of lessons learned across the entire project duration: if there is adequate constructive input, we plan to run this as a short panel directly after the talks. PIs selected to give long talks will be contacted directly by the program chairs. 
c. Lightning Talks: Short "Lightning" Talks will not be programmed for the 2023 FRR-NRI PI Meeting.
POSTER TEMPLATES

Click Image to Download 30x40" Template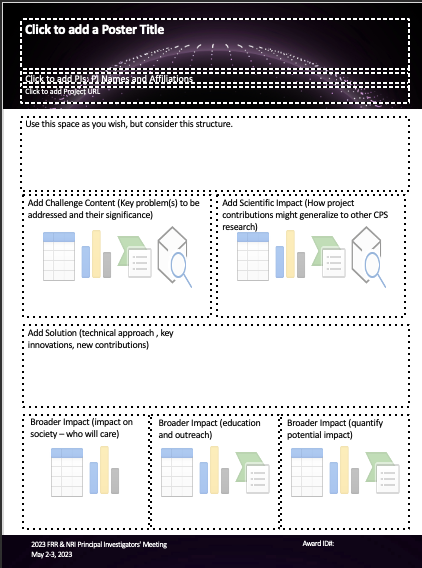 Click Image to Download 40x30" Template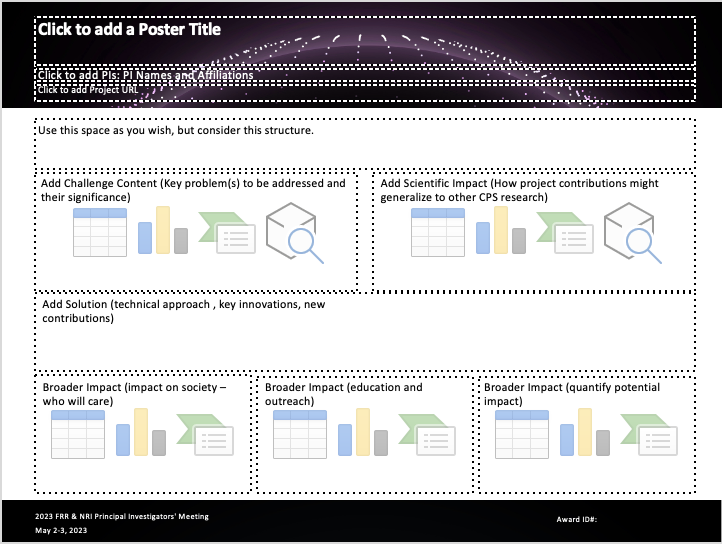 d. Project Posters:
Two poster sessions with one on each meeting day will be programmed fo the 2023 FRR-NRI PI Meeting. Half of the project posters will be presented on meeting day one and half on meeting day two. The organizers will post the presentation day and poster location number per PI to the website prior to the opening of the PI Meeting. PIs of NSF-funded NRI projects are required and of FRR project are encouraged to submit a poster, poster abstract, and are encouraged to submit an optional video of their projects. For collaborative projects, PI collaborators can decide whether to submit one poster/abstract/video (optional) that explains the research by each collaborating institution and note all award numbers, institutions, and names of PIs, Co-PIs, and other senior project personnel. Please inform the meeting organizers if you plan to submit one team project. Please submit poster content at: https://cps-vo.org/group/frr-nri-pimtg23/poster-submissions by Monday, April 17, 2023.
Poster Requirements:
The printed poster should be either 40" tall x 30" wide or 30" tall x 40" wide
Each poster should include the following information:

Title
PI and Co-PI names
NSF award ID(s)
Meeting dates: May2-3, 2023
Meeting Name: 2023 FRR-NRI Principal Investigators' Meeting

Poster naming convention:

(for abstracts): 
PILASTNAME_FirstName_AwardID#_PosterAbstractsContent pdf, or doc, or docx (e.g., DOE_John_2211334_PosterAbstractContent.pdf. For PIs with multiple active awards, please include the specific award # per separate file submission/name (e.g., DOE_John_2222222_PosterAbstractsContent.pdf; DOE_John_333333_PosterAbstractContent.pdf)
(for slides): PILASTNAME_FirstName_AwardID_PosterSlidesContent.pdf (e.g., DOE_John_2211334_PosterSlidesContent.pdf. For PIs with multiple active awards, please include the specific award # per separate file submission/name (e.g., DOE_John_2222222_PosterSlidesContent.pdf; DOE_John_333333_PosterSlidesContent.pdf, etc.)
(for optional videos): PLASTNAME_FirstName_AwardID_PosterVideoContent.mp4, or avi, or mov (e.g., DOE_John_111111_PosterVideoContent.mp4). For PIs with multiple active awards, please include the specific award # per separate file submission/name (e.g., DOE_John_2222222_PosterVideoContent.mp4; DOE_John_333333_PosterVideoContent.mp4, etc.)

Please use the poster template as a guide.
PIs should print and bring the poster with the to the PI meeting. All posters should be in place by 8am on the first day of the meeting.
Submit an electronic copy (PDF) of the poster along with an abstract by CoB Monday, April 17, 2023.
Posters should provide an overview of the research topics and results and convey the research objectives and scientific directions of the project. We also strongly encourage each project to provide an abstract (no more than 1 page. We also hope that you will explain the project as a whole, rather than only a narrow subtopic. It would be particularly helpful if you include the scientific challenge questions being addressed in the project context that will contribute new approaches for robotics research.
One poster session each will be held on Tuesday, May 2 and Wednesday, May 3, respectively. All PIs with posters should plan to participate in both poster sessions. Posters should remain up over the entire two-day meeting. The organizers will post to the website the names, award numbers, project titles, and poster session location numbers to the website in advance of the PI Meeting. Participants are encouraged to post their posters to their designated space on the arrival night or during the breakfast on the first meeting day. Poster stands have a cushioned backing and the organizers will provide push pins.  If you are participating in a demonstration, your project posters will be co-located alongside your demonstration.
e.  Project Demonstrations:
Space for a limited number of "live" project demonstrations will be programmed this year. Demonstrations should showcase the research so that non-FRR and NRI experts may also appreciate and understand their significance in the real world. We hope to use the demonstration session as a starting point for this R&D showcase. If you are interested in participating in the demonstration session, please complete the webform found at https://cps-vo.org/group/frr-nri-pimtg23/demo-interest. A submission code will be provided in the official invitation letter to PIs. The deadline for submitting your demonstration details is CoB Monday, April 17, 2023. On the webform, please describe your demonstration research project in detail by submitting a two- to-three sentence abstract.
We strongly encourage demonstrations by projects that are in their third and fourth year. We encourage others to please consider participating in the demonstration sessions as well.
All PIs selected for demonstrations will be contacted in a separate email message. Please indicate on the webform the types of AV equipment/props that will be needed if selected for a demonstration, such as projectors, screens, microphones, table stands, etc. The organizers will do our best to assist your needs.

Should you have questions or experience technical difficulties accessing any of the submission links, please contact Frankie and Jason directly or the meeting organizers at frr-nri-pimtg@cps-vo.org. 


GENERAL INFORMATION:


Code of Conduct Policy:
The organizers of the 2023 FRR-NRI PI Meeting are committed to providing a safe and enjoyable event experience for all participants and a welcoming environment for free discussion of ideas. Harassment of participants in any form during events or in any FRR-NRI online space or social media will not be tolerated. To view the full Code of Conduct, please click the following link: https://cps-vo.org/group/frr-nri-pimtg23/codeofconduct.
Crowd Release Policy:
By attending the 2023 National Science Foundation FRR-NRI PI Meeting, you are entering an area where photography and audio and video recording may occur. Your entry and presence at the event constitutes your consent to be photographed, filmed, and/or otherwise recorded and to the release, publication, exhibition, or reproduction of any and all recorded media of your appearance, voice, and name for any purpose whatsoever in perpetuity in connection with the NSF FRR & NRI Programs and their initiatives, including, by way of example only, use on websites, in social media, news and advertising.
COVID-19 Policy:
The meeting organizers believe it is most prudent to take precautions within their control to assist the health and safety of the 2023 FRR-NRI PI Meeting participants. In so doing, a COVID-19 attendance policy has been developed and will be enforced at all times during the 2023 FRR-NRI PI Meeting. Please see the full policy at: https://cps-vo.org/group/frr-nri-pimtg23/COVID-19.
Early Onsite Registration Check-in:
On the evening of Monday, May 1, 2023, the registration desk will be open from 6 p.m. ET to 9:00 p.m.ET for persons who wish to collect any registration materials prior to the meeting day one opening. The registraion desk will be available will be availabe starting at 7:00 a.m. ET on the two full meeting days.
Meals:
Continental breakfasts, a.m., lunches, and p.m. breaks will be served on the full two meeting days. Light refreshments will be served onthe arrival night during the early registration check-in.