Venue/Accommodations
Venue/Accommodations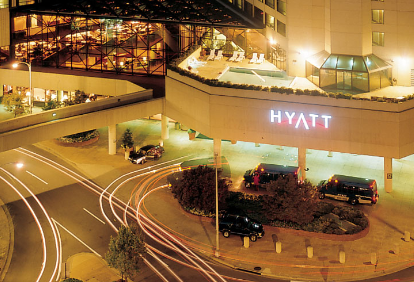 Venue  
The 2023 Foundational Research in Robotics - National Robotics Initiative PI Meeting will be held at the Hyatt Regency Crystal City Hotel located at 2799 Richmond Highway, Arlington, VA 22202. The meeting dates are Monday, May 1 (arrival night) - Tuesday, May 2 and Thursday, May 3 (meeting days), 2023.
Room Reservations
A block of rooms has been reserved at the Hyatt Regency Crystal City Hotel starting on the night of Monday, May 1 through Tuesday, May 2. Rooms reserved within this block will be $258.00 USD per night plus taxes (for single/double rooms), $283 (for triple), and $308 (for quad).
Please make your reservations here: https://www.hyatt.com/en-US/group-booking/WASRC/G-NRIF. For stays outside the blocked dates, the link above should suffice. Please note that reservations outside the block could be higher or lower than the room block rate. All meeting attendees are responsible for making their own lodging accommodations.
Should attendees need to contact the hotel reservation line directly, you may call #877-803-7534 but please make sure to reference "2023 FRR-NRI PI Meeting" so that these rooms can be correctly added to the contracted room block. 
Room reservations must be made no later than Monday, April 10, 2023 by 6:00pm (Eastern Time). Reservations made after that day and time will be based on availability at the hotel's prevailing rates. Please make your reservations early to secure a room. Please be advised that the hotel could sell out of rooms after the room block deadline.
The Hyatt's check-in time is 4:00 p.m. ET.and check-out time is 11:00 a.m. ET. Guests arriving prior to 4:00 p.m. ET will be accommodated as rooms become available and may be charged an early check-in fee. Express check-in and check-out and contactless check-in and check-out are available. 
Hyatt Hotel Parking
Attendees will receive $15 discount (per night) off the hotel's standard valet parking rate (currently $45/night) at the time of event and includes unlimited in-and-out privileges.
There is no self-parking available at Hyatt. This must be via your own discretion if street parking/garage parking off-site. 
Shuttle Service
The Hyatt Regency's Complimentary Shuttle Service is offered 7 days a week from 4:20 a.m. to 12:40 a.m. Shuttles depart from the front of the Hotel every 20 minutes on the hour. Complimentary Shuttle service is currently provided to and from the Metro Station at Reagan National Airport. 
Please track the Hyatt shuttle for pick-up simply by clicking the link here www.trackmyshuttle.com when you arrive. The shuttle service will provide the estimated times to and from the airport.  When opening the link be sure to use HOTEL CODE: 2799.
Directions to the Hyatt Regency Crystal City
From Ronald Reagan Washington National Airport (DCA)
Follow Smith Blvd to merge onto W Entrance Rd, right on Abingdon Dr E, continue on Airport Access Rd, turns into Richmond Hwy, left on 27th St S 
Distance from hotel: 2 mi.
Approx. drive time: 7 min.
From Washington Dulles International Airport (IAD)
Get on VA-267 E in Hunter Mill District from Rudder Rd and Aviation Dr
Follow VA-267 E and I-66 E to VA-110 S in Arlington. Take exit 75 from I-66 E
Follow VA-110 S and US-1 S then left onto 27th St S
Distance from hotel: 29 mi.
Approx. drive time: 35 min.
From Baltimore/Washington International Thurgood Marshall Airport (BWI)
Follow Service Rd Lower Level and Friendship Rd to I-195 W
Continue on I-195 W. Take I-95 S, I-495 S, Balt-Wash Pkwy and State Hwy 295 to US-1 S in Arlington, Take exit 8C from I-395 S, Follow US-1 S then left onto 27th St S
Distance from hotel: 38 mi.
Approx drive time: 50 min.