Trip to Intel Science and Engineering Fair
Sun, 05/10/2015 - 11:41am
I decided to "blog" about my experiences going to judge the NSA Science of Security award at the Intel International Science and Engineering Fair (ISEF). I'm excited to go. It's my first time going to this event which I have heard about for years. I first heard about it early in freshman year, as a neighbor in the dorm was a finalist or winner (1999?). These high school students do some advance research to make it to the pinnacle of high school science fairs. It should be great to see the boards, both the cybersecurity ones and the many others. The excel file that lists the awards has 1700 students!
I'm heading to Pittsburgh tomorrow a fairly common; though not recent drive for me. The government materials are ready, but I still have to pack.
Adam
Mon, 05/11/2015 - 8:33pm
#2
ISEF Day One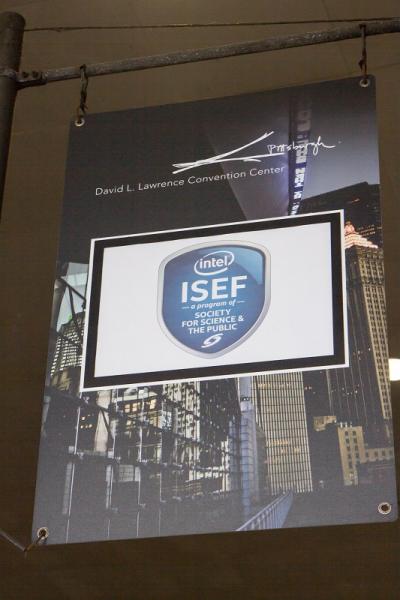 Day one of ISEF is over. It was a full day. Drove to Pittsburgh, not anything particularly noteworthy there. Arrived and eventually found the the booth. It was already setup, which was awesome. We helped put out the paper materials, ie swag. Sure a SoS trifold is swag. We worked the booth from 2pm to 6:30. Lots of students, school teachers, and even a few parents dropped by. Lots of interest in NSA. Went through about all of the HR materials sent with us. Many questions about what fields should they focus on in high school and in particularly college as to be desirable by NSA. Attending the ISEF is a great way to encourage students to take classes and learn the skills that NSA needs. I truly think that after today's experience talking with all the students, that NSA should be more involved with these events. These are formative years.
The most interesting fact i learned was that one of the students talked about using cryptol. Which is an NSA, R2, funded language for algorithms and formal methods. So really cool seeing something we produced being used by someone with no affiliation. Just awesome.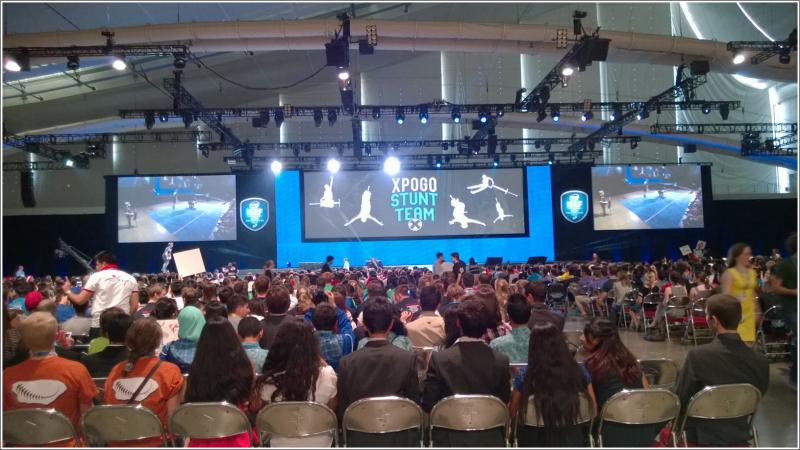 We closed up shop at the booth and went to the opening ceremony. Wow, kinda crazy. Pre ceremony entertainment was xpogo. An extreme pogo student team. (picture attached) I can now say, I seen people do pogo over a 7 foot high rope and do a 360 flip on a pogo. The speakers were less xtreme. CEO of the Intel Foundation, the Intel Futurist, and a CMU professor who invited captcha, recaptcha, and duolingo. These are pretty amazing inventions. And the concepts could be applied to much. He took captchas and and instead of just wasting all that human brain power, they are now used to help google OCR the world's books. Words that the computer couldn't recognize are now done by humans as they prove they are humans. Along with duolingo, his solutions often are win win setups where both parties contribute and both gain. The ceremony ended with a shotout to all the countries attending. 70 some countries from around the world and six continents. (picture attached) There are 1702 student researchers presenting their work. Representatives from each carried a poster on stage and they all assembled. It was like the opening ceremony of the Olympics.
That is all for today, its been very cool and a great experience.