Register for Tech Jam by 3/15 and news about cash prizes and travel funds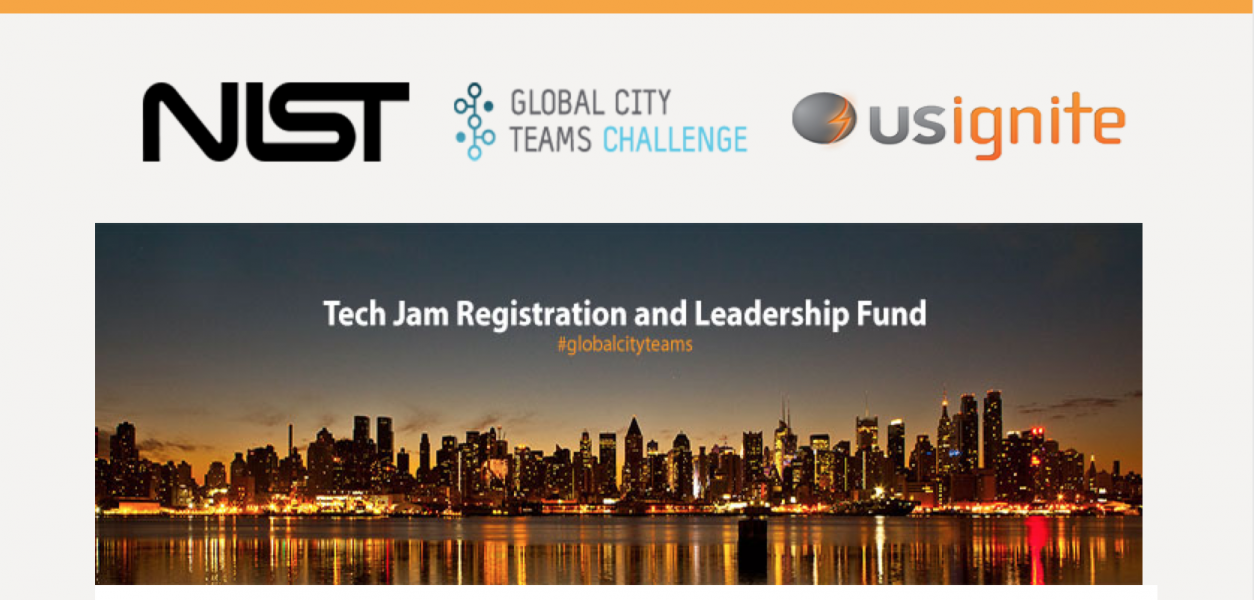 Hello all,
We are a few short weeks away from GCTC Tech Jam 2016 (March 22-23) and IoT-Enabled Smart City Framework Workshop (March 24-25) and we are thrilled to report that we expect more than 40 Action Clusters to present on their projects at the Tech Jam later this month.
Copied below are a number of updates and reminders regarding the upcoming events.
GCTC Tech Jam and IoT Enabled Smart City Framework Workshop
Although there is no cost to participate in the GCTC Tech Jam and IoT Enabled Smart City Framework Workshop, registration is required by March 15th, 2016. NIST is a controlled-access facility. In order to gain access to the grounds, you must register for the events on the NIST site http://www.nist.gov/cps/gctc-tech-jam-and-iot-enabled-smart-city-framework-workshop.cfm. On this site, you can also find information about discounted accommodations and the agenda for the events.
Confirmed Speakers from the World Bank and NSF at the GCTC Tech Jam:
We are delighted to announce that Victor Vergara, Lead Urban Specialist, World Bank and David Corman, Program Manager, National Science Foundation will present at the GCTC Tech Jam.
Confirmed Cities Participating in the Tech Jam:
We are pleased to announce that more than 50 cities including: New York, NY, Washington, DC, Newport News, VA, Santa Rosa, CA, Winooski, VT, Portland, OR, Austin, TX, Truckee meadows, NV, Abuja City, Nigeria, Busan, Korea, Porto, Portugal and Genoa, Italy are partnering with GCTC Action Clusters expected to attend the Tech Jam.
Presenting at the Tech Jam
If your Action Cluster did not submit a project worksheet by Friday, February 26 but you are interested in presenting at the Tech Jam, please contact Kyle Johnson (kyle.johnson@nist.gov). We expect to have a small number of speaking slots available.
Additionally, NIST and US Ignite are organizing a GCTC Tech Jam panel on the investor perspective of smart city and IoT projects. This is an opportunity for GCTC Action Clusters and potential GCTC participants to hear from venture capitalists, accelerators, incubators, and representatives from other funding organizations who see smart city projects as great investment opportunities. If you are interested in participating on the panel, please contact Kyle Johnson at kyle.johnson@nist.gov for more information.
GCTC Leadership Fund
On behalf of the GCTC Partners IBM, Intel and GE, US Ignite is pleased to announce the GCTC Leadership Fund. This fund will make awards to defray travel costs to the GCTC Expo, and it will also provide cash awards to exceptional Action Clusters. This funding opportunity is available to private companies, local governments, nonprofit organizations, and educational institutions, regardless of their geographic location. Please visit https://www.us-ignite.org/globalcityteams/leadership-fund/ to learn more and to submit an application. Applications are due April 15th, 2016.
Travel Support for Local Governments Attending the GCTC Tech Jam NIST is offering limited travel support to city officials attending the Tech Jam. Priority will be given to cities involved in registered GCTC Action Clusters. Please contact Kyle Johnson kyle.johnson@nist.gov for further details.
NIST GCTC Local Government Grant Program
NIST has released a grant program for US local governments participating in the Global City Teams Challenge. The program is called the "Replicable Smart City Technologies" (RSCT) Cooperative Agreement Program. This funding opportunity will grant three $100,000 awards for US local governments participating in the GCTC. The application deadline is May 12, 2016. To learn more about the RSCT program, please click here.
NSF EAGER Grant Deadline
The deadline of the EAGER grant is fast approaching. To be considered, the applicant must be an active member of a GCTC Action Cluster, working on a project that will build upon the results of a previous or active NSF-funded project. The National Science Foundation will be holding "office hours" at the GCTC Team Jam. This is an opportunity for teams with an interest in applying for an EAGAR (http://www.nsf.gov/pubs/2016/nsf16036/nsf16036.jsp) grant to speak with the NSF program officer. Grant applications are due April 1, 2016.
Smart City / IoT Initiatives in the Washington, DC Region Showcase Event - Optional Event for GCTC Tech Jam Attendees, March 23, 2016.
While you are in the Washington, DC area, we hope you can stop by a special IoT DC event. The event will showcase the initiatives happening in the Washington DC region and provide opportunities to interact with members of IoT DC community. At the event, attendees will hear presentations on the use cases and business objectives related to a number of initiatives, as well as demonstrations of the technologies being used. Presenters will be announced soon. To RSVP, please visit http://www.meetup.com/Internet-of-Things-DC/events/229298283/.
Agenda
6:00 PM Doors open for food, beverages, and networking
6:45 PM Presentations
8:30 PM Wrap-up
Best Regards,
Sokwoo Rhee
Associate Director of Cyber-Physical Systems Program
National Institute of Standards and Technology