ISEF 2016 - NSA RD Award Trip
A year has past by since ISEF 2015 in Pittsburgh PA and now I am in Phoenix AZ for ISEF 2016. This trip will be bigger and better than last year. I have taken about two dozen ideas I had last time and applied them to this trip. Having experience will make it even better. This time I am lead judge for the National Security Research Director Award and in effect primary POC. I'm now the one keeps this ship sailing. Yeah, I used ship, I know I'm in phoenix, in the middle of the desert, but to my surprise there are palm trees everywhere. This must be the best time of year, many of the flowering plants are just starting to bloom.
First lesson was a success. Book early. Because I knew I was going to be here early, let me book my hotel back in December. I'm at government rate across the street of the convention center. Yep, that is cheating because I booked before the kids knew they would be coming. Being across the street is way awesome. It allows you just do what needs to be done. I don't have to worry about having everything I need in the morning. Just take what I need.
Last night, I took the light rail from the phoenix airport to the convention center. Took about 10min, which is about the same time it takes to just take the rental car shuttle from the airport to the car rental shuttle. Definitely a plus for the light rail. I have a nice view too from my 21st floor room. I'll have to work on a panoramic photo later. I can see the university of phoenix stadium from my window. No, that does not mean that I'm in Glendale AZ, but its a really big structure.
This morning Lisa and I went to setup the NSA booth in the expo hall. This year's expo hall is much closer to everything than in Pittsburgh. The doors are directly across from registration. Hope this means we get even more traffic. The hotel moved our 200 lbs of materials to the expo hall, making it so much easier, Note for 2017, register everyone as a judge and as an exhibitor. The special award judges can't check in until Tuesday Morning. The booth is setup and with this little break; I'm using it to write this introductory post. I'll write again tonight (if I'm awake after opening ceremonies).
The NSA Booth at the

ISEF

Expo Hall
Close Up of the Materials
Tue, 05/10/2016 - 1:37am
#1
Monday continued. 2pm the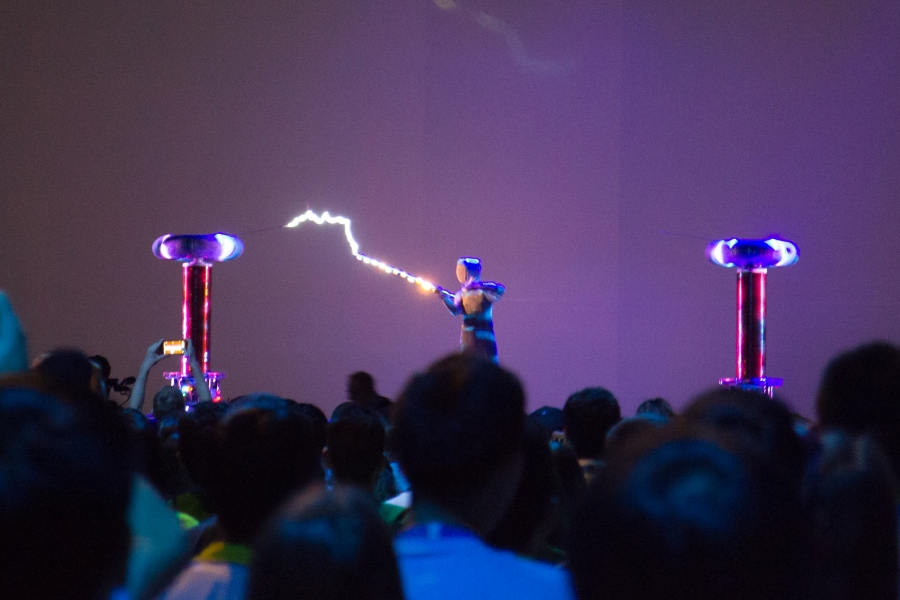 Monday continued. 2pm the Expo Hall opened and within just a few min students and parents came in to see who was there. We had a steady stream throughout the four hours that the expo hall was opened. One difference this year is that the dinner was not only in a different room it was far off in a different room. The result was there was less of have tidal wave that we experienced in Pittsburgh as people finished eating. I suspect that this year Tuesday will become a busier day.
The experience is once again rewarding talking with students, encouraging them to excel. It was also great to learn about where they are from and what they did research on. One project we are looking forward to seeing in person is optimal shapes of ice cubes for restaurants. I will find it and report back.
The top handout this year was the custom handout that we built that listed the NSA High School and College Freshman student programs. We went through lots of those, but we still have supplies from the 250 for Tuesday and Thursday. The other popular handouts were the other custom ones we made, the information on the Math Talent Search; What is NSA and other related cybersecurity competitions and programs. Gen Cyber is also popular. I really think from our presence here; NSA will be getting applications from top students to the student programs that would not have occurred without being here.
ODNI this year joined NSA in sponsoring a booth at the expo hall. They are representatives from both CIA and FBI in attendance. CIA put their recruitment QR code on a temporary tattoo. That's a new distribution method for the VO. :) The CIA had hand fans, lanyards and magnets while FBI had bags and other things. They had a great showing at ISEF and good attendance at their booth too.
Later in the day; we worked in shifts so that we could eat dinner. Dinner was salad, rice, vegetables; mac and cheese; chicken and the fish was Cod. For those who were wondering there was no Tilapia. After dinner we attended a VIP reception before the opening ceremony. Some finger food and drinks. While the brazed short rib with garlic mash potatoes and the Beef Wellington were good, the star to me was the avocado brushetta.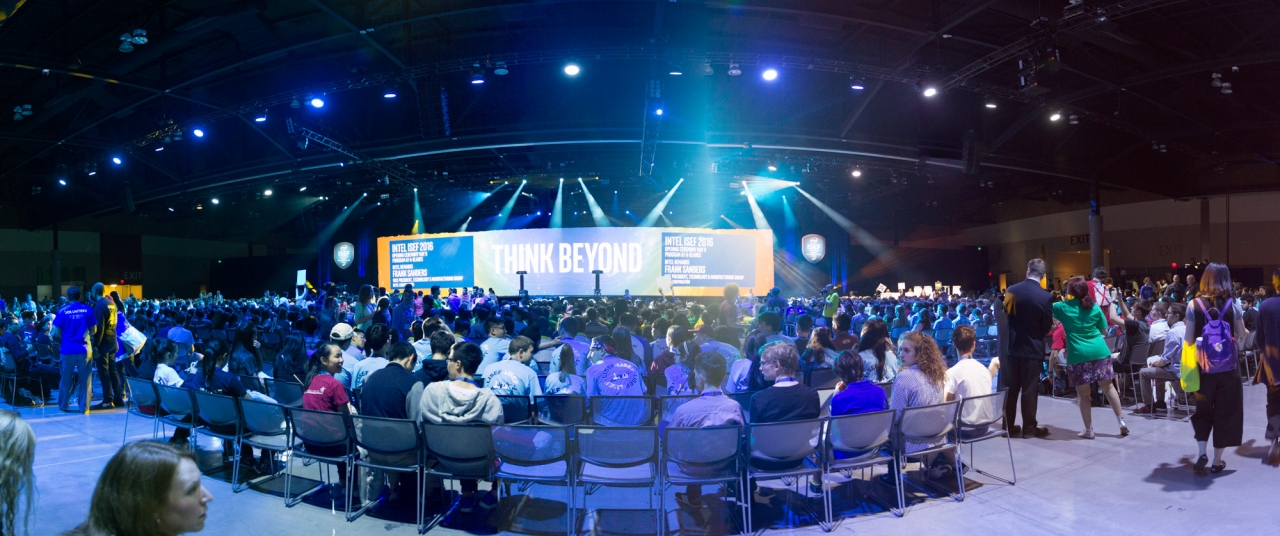 At 6:30, we were escorted into the main hall for the opening ceremony and showing our VIP seats. We were directly behind the students. This time we didn't share a row with Nobel laureates; they were in the section next to us.
The open ceremony pre show was again super impressive. While there were no professional pogo people; this year was a musical group that used plasma generated from Tesla coils to generate sounds to a rocking beat. Visually and Audibly impressive. Check out the pictures of the giant musical lighting bolts. Yeah, that's pretty much the way to describe it.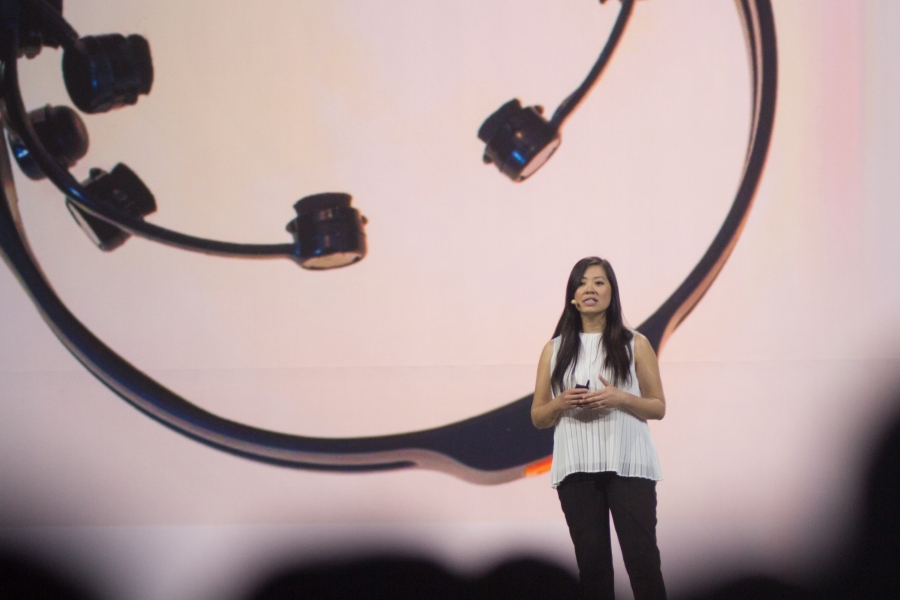 The MC for the night, was a Jonathan Lowe, reporter from the CBS station in Phoenix. He did a great job; he was young and energetic; did a great job making it enjoyable for the students. Quick introductions from the new head of the Intel Foundations; one from the president of the host, ssp, a vp from intel and the keynote address. The Keynote was given by Tan Le from Emotiv Life Sciences. She was inspirational. She talked how her family escaped South Vietnam after it fell and immigrated to Australia. She said after she sold her first company that made telecommunications software; she was at a crossroads. She decided she wanted to work for the benefit of humanity; living and working that was worth the sacrifices that her parents made for her. There will be uncertainty with choices; and persistence is needed. But the most important message from her talk was to rely on your differences; don't try to conform; but think in a different way; its ok to be and outsider because you can think differently and not be part of the group think.
After Tan Le's keynote; was the country shout out. The best part of the opening ceremony. Representatives from each country; are called to the stage; carrying posters that they made representing their country. Stats were 75 countries and 1764 students in attendance.
To see more of what is going on there is ISEF on Facebook; SnapChat; Vine; Instagram; and Twitter. Easiest to link to twitter #IntelISEF & #IntelISEF2016
That's all for me tonight. See you all tomorrow.