ISEF 2017 - NSA RD Award Trip
Mon, 05/15/2017 - 12:16am
It's that time again. The week where I work lots of hours and have lots of fun too. It's ISEF 2017 week. First time reading this and wondering what is ISEF? Well, ISEF is the Intel International Science and Engineering Fair. It's the largest science fair with about 1800 students from 80 countries coming to it. To be able to attend these students, called finalists, have won at least one recognized science fair. In 2015, I had the idea to create a Science of Security award to recognize outstanding scientific cybersecurity research at the high school level. The award shows that cybersecurity is important and there can be money won by putting a project together. If students decide to research, then maybe they will find it interesting which could lead to more education and careers in cybersecurity. It's as simple as that, inspire kids to pursue good scientific research in cybersecurity. We can inspire more than just the few kids that win our prize.
This year, I'm in Los Angeles! Woo! So what's new for us this year. Well, the biggest thing is that this year, in addition to the three Science of Security awards (1st, and 2nd x 2), there is a prize in mathematics. To handle the mathematics part, we have 2 extra mathematicians with us. Not too much yet, just going to get a good night sleep and then tomorrow time to work.
Adam
Tue, 05/16/2017 - 2:15am
#1
Day 2
Hi Everyone, writing this at the end of day 2.
Starting this entry after I've been working for 13 hours. So, if I make a spelling or grammar error you know why. What was today? Today was the first big day. It started this morning with the search for the boxes of materials that we had sent here. I tried to pick them up on Sunday, but they couldn't find me in the system. Today, with the shipper they had no issues finding the boxes.
The NSA and SoS materials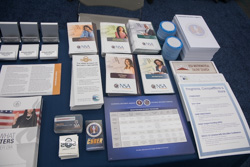 Once we had the boxes, we took them and went and found the Intelligence Community (IC) Booth. We are in a joint booth this year. Attending is FBI, NGA,NCTC, DIA, NSA. We each have our materials. I even got to see our ARO friend in Raleigh and NCSU staff. It's really a small world.
IC Community Seal, Yep that's on our Table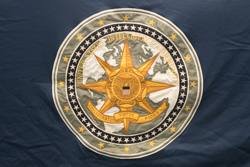 My Arm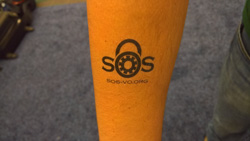 New for NSA/SoS are the SoS temporary Tattoos. yay. While, I haven't gotten Sully down to apply one, yet, hear that sully? you're getting one. I have decided to model one. Lets see how well it wears.I am now truly a walking billboard for SoS. Clothing wasn't enough. :)
Busy Day at the IC Table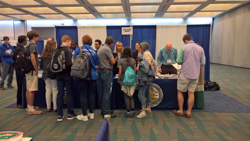 After, working the booth for a few hours, I went to the VIP reception. They let me in too. It was nice. Did you know that you can put cheesecake on a stick. It's true.
I was here. Yep, selfie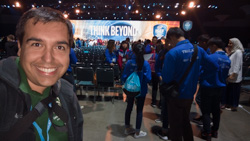 And now about the big event. This evening was the opening ceremonies. And what we have been waiting for, how does ISEF followup professional pogo stick jumpers (Pittsburgh) and tesla coil music (Phoenix). Well, dancers with a bunch of led lights wireless controlled. Felt like they were on stage for two min. I think they left us all wanting more.
The hall as people were coming in.

The Lightup Dancers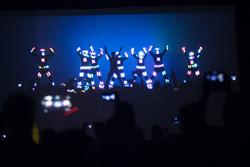 The Slinky Demo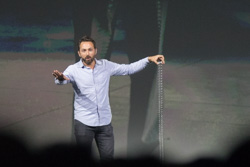 The host for tonight was not a weather person from the local tv station, but rather a phd who does viral videos on youtube that explain physics. yeah, totally different. He did a demo. If you hold a slinky out and let it hang down vertically. What happens when you release it. My thought was it falls down. But more specifically, what happens, is the top starts to fall, and as it descends, the slinky shrinks back together. It isn't until it reaches the bottom that the bottom part of the slinky starts to fall. yeah, not something I had ever thought about. But as I do, I think I can explain the forces. (maybe a reader can google it, find the youtube video and see if I'm right). I think it's because a slinky is a spring. When you let it hang down. At any given point, the force of the spring pulling up is equal to the mass of the spring below. It's in equilibrium. It works perfectly up and down the slinky. This is why the slinky is further stretched out at the top than the bottom, less mass. Now when you let it go, the top part is being pulled down by gravity and by the contracting of the spring. Because of the spring contracting pulls with the force of the weight below that force needs to be balanced out (equal and opposite forces), thus it supports the non falling part of the slinky. It would imply to me, that the top of the slinky falls faster than g. But that' s my guess.
Keynote address. He was always into science. as a kid in India, he tried to build a microscope using his little brother's glasses.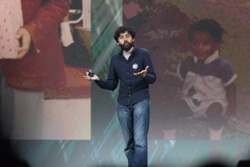 The keynote was a Stanford Professor, Manu Prakash. You might have heard of him. He's lab developed the spinning toy centrifuge to separate blood in remote villages. It's both cheap and doesn't need power. He also developed a #1 Microscope. He was good, his talk illustrated important less of doing science / research beyond how great he is and cool things he has developed. Message one, It takes first hand experience to under problems. Get out into the field and see what needs to be solved. It gives better understanding of the problem and the constraints. Constraints is the 2nd message. They needed to be overcome to be able to make a difference, ie have the solution adopted. If your solution can't be adopted, you haven't made a difference. The third message is that cheapness really matters. He talked about how many kids are poor, like a billion, and how many people live under poverty. Solutions need to be cheap. It has to get out there to make a difference to lots and lots of people. It inspired me that it's a really good thing that Science of Security is so public. Because the the ideas produced are public it can help build the cybersecurity base for all.
And then representatives of each country were called to the stage with their custom made poster. While they came up they had a video of them doing/saying something. It's a nice way to end. Shows the diversity of the attendees. I believe the stats are 78 countries with Ghana and Zimbabwe attending for the very first time. Big shout out to them. There are 1778 students attending too.
Example country welcome screen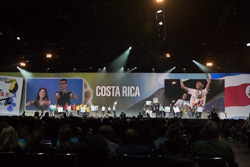 All the countries represented on stage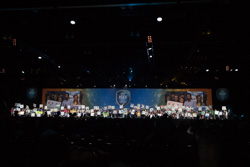 Tomorrow, the plan is visit the project posters, put NSA pins out at select posters with thank-you notes from Dr. Frincke, NSA Director of Research. And decide which finalist we will interview on Wednesday., No, I don't expect we will be attending the adult mixer, gotta work.
Did you know that ear buds come by the foot?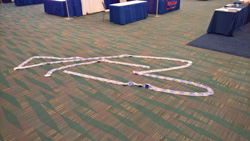 A sneak peak at the exhibit hall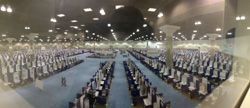 P.S. I have figured out a lazy way to play pokemon go in my hotel room. I have noticed the GPS location becomes less accurate the further vertical I am from the ground. I have found that it's predictable. I can move my location around my block and the block next to it, by moving my iphone around my room. going from the bed to the window and back causes the game to think I've moved.3 miles. I think it must also have something to do with the unique ways the GPS signals bounce around all the glass buildings around me. Anyway, thought I share.