U.S. Secretary of Transportation Elaine L. Chao Launches Drone Integration Pilot Program
Wed, 11/08/2017 - 12:45pm



President Trump recently announced the new Unmanned Aircraft Systems (UAS) Integration Pilot Program to accelerate the integration of UAS into our nation's busy airspace and to spur innovation.
The UAS Integration Pilot Program will seek partnerships between state, local, and tribal government entities and private industry to gather operational and other data from advanced operational concepts, such as flights over people and package delivery. It will also enable state, local, or tribal entities to determine what kind of pilot program activities, subject to FAA safety oversight, will occur in their respective jurisdictions.
The results will help to inform safe UAS operations and help to transition many of the new and novel operational concepts that we manage today by exception into routine, commonplace aspects of our everyday lives.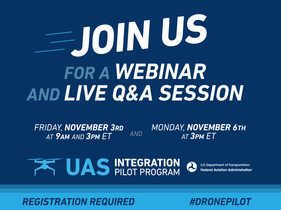 Details about applying, timelines, and requirements will soon be provided in a Federal Register notice and in a Screening Information Request (SIR). Links to both documents will be available at FAA.gov/Go/DronePilot. You may also subscribe to receive email updates from the FAA.
If you are interested in the UAS Integration Pilot Program, we encourage you to participate in one of the three upcoming webinars. Each webinar will provide you with an overview of the Program, application process, and the specific criteria and deadlines that you will be required to meet. Please register for one session only as they cover the same content.
The webinars will be held on the following times. Registration is required to attend.
Friday, November 3 at 9:00 a.m. ET
Friday, November 3 at 3:00 p.m. ET
Monday, November 6 at 3:00 p.m. ET
Thank you for your interest in the UAS Drone Integration Pilot Program.
FAA UAS Integration Office