Getting Started on a Cyber Science Fair Project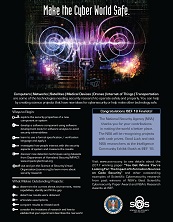 The Science Fair Ad that ran in the Science News Magazine for ISEF 2018
Introduction
Interested in getting started in doing a cyber or a national security science fair project? This is a good place to start. The Science of Security and Privacy Initiative has been funding top university research projects and recognizing the best scientific cybersecurity paper published since 2012. In 2014, we started recognizes projects the Intel International Science and Engineering Fair. The National Security Agency Research Directorate has been sponsoring awards in Science of Security since then. More details on the awards. The goal behind all this is to encourage students to look at cybersecurity as an interesting field and help produce science critically needed in both in science fair projects and in future careers.
Why Cybersecurity
So why should a student think of a cybersecurity as a field to do a science fair project on. Cybersecurity projects are a gateway to the oustanding and important cybersecurity world. As there is considerable research on the shortage of cybersecurity professionals, cybersecurity is a way to scholarships, emplopyment and impactful careers.
Everyone can participate, as cybersecurity is a team effort from multiple areas together in one project.Where you have computer science interests, psycology, machine learning, software development,
Choosing a Project
Lots of potential projects that incorporate cybersecurity. Some examples to help you think about what you want to do:
exploring the security properties of a new component or system, perhaps build a prototype, and provide measurable (qualitative or quantitative) result
developing a software component using modern software development tools for software analysis to avoid security vulnerabilities and test the result
learning to use a formal specification/ verification language and applying it to a particular problem
investigating how people interact with the security aspects of computer-based systems and measure the results
Finding Resources
Science of Security and Privacy Virtual Organization

You are already here
The VO is the virtual organization of foundational cybersecurity researchers. You can read and see research and activities in this NSA funded activity. Browse around and see what's there. Joining allows you contribute content, collaborate and receive update emails.
Welcome to engage with people here.
Special Forum Topic on Science Fair Projects: https://cps-vo.org/node/50035

Department of Homeland Security Impact Dataset. This webpage is a gateway to datasets that have been contributed.

Yes, the website appears not to allow k-12 participation, but they do encourage it. Don't be discouraged by the focus of the website. Some datasets do require you to sign a document about them. You can have a teacher/mentor/school help with that. If you run into issues bring it up as a topic in the SoS-VO forum thread.
Examples of Good Science
Each year, the NSA has a competition to identify and recognize the best Scientific Cybersecurity Paper. All referred (peer-reviewed) papers are elligible. Take a look at the past winning papers and honorable mention to see what the best in cybersecurity are doing. The attributes looked at are:
Author discovers something about the cyber world using scientific methods.
Author indicates how the results do or might extend beyond current case
Author uses and documents a sound methodology in the research
Author expresses assumptions and limitations
Result has foundational or systemic impact
Clarity of Writing/Presentation