SoS Paper Competition Review Team: Daniel Earl Geer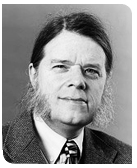 Dr. Daniel Earl Geer Jr., Sc.D. serves as Chief Information Security Officer at In-Q-Tel. Dr. Geer serves as Principal of Geer Risk Services as well as an entrepreneur, author, scientist, consultant, teacher and architect. He has been a Member of Application Scoring and Responsible Disclosure Focus Team at Veracode Inc. since April 2007. He served as the Chief Scientist Emeritus and Vice President of Verdasys Inc. He served as the Chief Scientist of Verdasys Inc. He served as the Chief Technology Officer of @stake Inc. Prior to @stake, he served as Vice President and Senior Strategist at CertCo. Dr. Geer also served as Director of Engineering at Open Market, Inc. and as Chief Scientist and Vice President of Veritas (formerly, OpenVision Technologies).
Dr. Geer is an expert in computer security and has been recognized as a pioneer in the space for his insight into the critical issues that plague the security industry. He has been featured in publications such as Network World, Search Security and InfoWorld. A renowned expert in the field of network security, Dr. Geer has testified before the House Science and Sub- Committee on Technology regarding public policy in the age of electronic commerce. Dr. Geer has testified before Congress on multiple occasions and has served in formal advisory roles for the Federal Trade Commission, the National Science Foundation, the Treasury Department, the National Research Council, the Commonwealth of Massachusetts, the Department of Defense, the National Institute of Justice and the Institute for Information Infrastructure Protection. He served as President of USENIX, the advanced computing systems association.
Dr. Geer holds a Sc.D. in Biostatistics from the Harvard School of Public Health and a S.B. in Electrical Engineering and Computer Science from MIT. More information is at http://geer.tinho.net/pubs.html