Keynote: Science of Composition is Vital for Science of Security
ABSTRACT

Over the past 3 decades, we've watched our software and network systems become more complex, more connected, and more layered. Most purportedly secure systems are composed from many distinct parts, of diverse provenance, and operate on platforms built up from multiple layers. To gain assurance that our systems will perform their mission function and enforce security controls, we must address composition problems. This talk will explore several areas where composition is essential for security, and propose some means to improve the science of constructing and analyzing composite systems.
BIO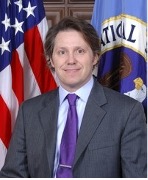 Mr. Neal Ziring is the Technical Director for the National Security Agency (NSA)'s Cybersecurity Directorate. In that role, he is responsible for a wide variety of technical assessment, external engagement, workforce developments, and strategic direction issues for NSA's cybersecurity mission. In his past position, he served as the Technical Director of the NSA Capabilities Directorate. In that role, he tracked technical initiatives, promoted the professional health of a diverse technical staff, and served as liaison to various external partners. Prior to the formation of the Capabilities Directorate, Mr. Ziring served as Technical Director of the Information Assurance Directorate for five years.
His personal expertise areas include security automation, IPv6, cloud computing, cross-domain information exchange, data access control, and cyber defense.
Prior to coming to NSA in 1988, Neal worked at AT&T Bell Labs. He has BS degrees in Computer Science and Electrical Engineering, and an MS degree in Computer Science, all from Washington University in St. Louis. Since then, he has also taken classes from Columbia University, the University of Maryland Baltimore County, and George Washington University.
License:
Creative Commons 2.5
Switch to experimental viewer
PDF document

904.11 KB

14 downloads